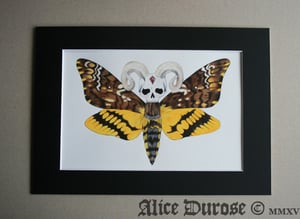 £

30.00
'Death's-Head Hawk Moth (The Supreme Overlord)' is Emperor of a woefully wicked class of morbid moths. This sinister specimen features the imagery of the Death's Head Hawk Moth, combined with a demonically deformed human skull to form a hellish Hawk Moth, creepy enough to chill you to the core!
The piece is a mixed media composition of pen and watercolour, on high quality A4 220gsm heavy weight cartridge paper.
The piece comes complete with pre-cut black mount board and is packaged neatly in a sealed cellophane sleeve to ensure your artwork arrives in pristine condition.
All original artwork comes with a signed note of authentication from the artist, Alice Durose. Which names and dates the piece.
Please note that this is a unique, original piece, and the copyright is retained by the original artist.